Essex attractions
Essex is packed with things to see and do, and there's plenty of old-fashioned seaside fun to be had too! With London just 30 minutes away, Chelmsford is the ideal base to explore Essex and beyond to the max.
A comfortable and stylish room awaits you at Atlantic Hotel Chelmsford when you return at the end of the day, as well as access to a fully-equipped gym and a fantastic restaurant to tickle your taste buds. Our expert team have put together this Essex guide for you, enjoy your trip!
---
Things to do with kids in Essex
There are so many places to visit in Essex with children, allowing them to run off enough energy to get a good night's sleep, leaving you with enough time to enjoy a spot of R&R!
Explore wildlife at Colchester Zoo
40 minute drive from Atlantic Hotel Chelmsford


Dating back to 1963, Colchester Zoo is a great day out for all the family. Your little ones will adore the wide range of animals they can wave hello to, including aardvarks, Komodo dragons and elephants, to name just a few.
If the weather takes a turn for the worse, there are wet weather activities to enjoy as well as a face painting station and a large dining area.
Enjoy a round of golf at Mr Mulligans, Basildon
40 minute drive from Atlantic Hotel Chelmsford
Who doesn't love a game or two of crazy golf? There are plenty of things to do with children in Essex, but few are as enjoyable as this! The other plus point is that it's indoors, making it a perfect thing to do when it's raining.
Mr Mulligans is suitable for children aged 4 years and upwards, and it has two, themed 12 hole courses – Fantastic Funfair and Amazing Arcade. There's even an onsite restaurant if you want to grab a bite to eat.
Follow Shaun The Sheep at Thames Chase Forest Centre
30 minute drive from Atlantic Hotel Chelmsford
If you have children who are fans of Shaun The Sheep, visiting Thames Chase Forest Centre is a must-do.
You'll need to download the app before you visit and buy an activity pack from the visitor centre for £3.50 (includes a UV pen, activity book, stickers and more!), then you'll use both to reveal hidden clues and puzzles throughout the forest trail.
The trail is aimed at families with children aged 5-13, is fully accessible for wheelchairs and buggies, and is around 2km long. It's a fantastic way for your children to get some fresh air and let off some steam in the great outdoors.
Not only is this a great way to get exercise but it's also educational, as it teaches children why trees are so important. There are also three play areas which have different themes.
---
Things to do in Essex for couples
From a spot of retail therapy in Chelmsford Shopping Centre to romantic walks, there are plenty of things for couples to enjoy in Essex.
Float down the river at Dedham Vale
40 minute drive from Atlantic Hotel Chelmsford

Dedham Vale is where several rivers all converge together, meaning the ultimate in romantic and beautiful scenery to take in. Head to the Boathouse Restaurant for a meal, then hire a boat and make your way down the river for half an hour.
These boats have been available to rent since the 1900s and it's one of the most peaceful ways to spend your time.
Boat hire times vary according to the time of year and the last renting time is usually around 4pm, although do check beforehand.
Enjoy a delicious meal at our Sapori restaurant
You might not feel like wandering too far, and in that case head to our on-site Sapori restaurant and enjoy a menu like no other!
Packed with delicious meals to make your mouth water and your nose wonder why it's never managed to source out that amazing scent before, this will be a meal you won't forget in a hurry.
Of course, you can enjoy a drink or two in the bar afterwards to finish off your night.
Try ice skating at Riverside Leisure Centre
8 minute walk from Atlantic Hotel Chelmsford
You might be terrible at it, but it will be a fun night out with the special person in your life! Chelmsford Leisure Centre has a large ice skating rink, and there's also a cafe upstairs which overlooks the beautiful River Chelmer, so you're getting a romantic view at the same time.
Riverside Leisure Centre is less than half a mile from Atlantic Hotel, and it's certainly one of the most fun things to do in Essex at night!
---
Unusual Places to Visit in Essex
Anyone who tells you that Essex is boring has never been! Packed with attractions, both mainstream and rather quirky, you won't struggle to find something a little different to tell your friends about upon your return.
Visit the oldest hotel in Colchester
35 minute drive from Atlantic Hotel Chelmsford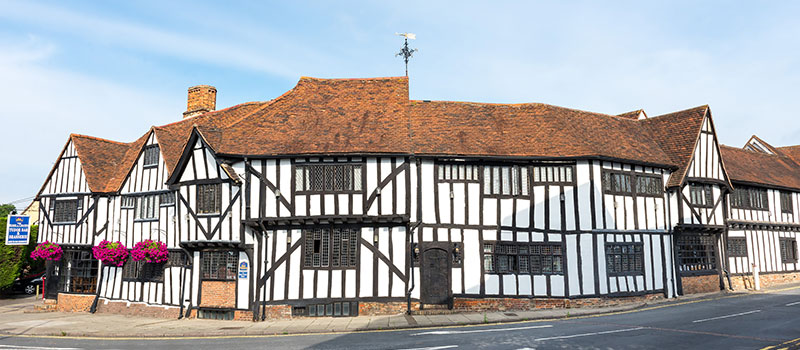 The Rose and Crown Hotel is the oldest hotel in the oldest recorded town in England – Colchester. Built over 700 years ago, it's a truly historic building which has retained all of its 14th century charm.
Relax in the oak beamed Tudor bar in front of a real log fire – there aren't many better things on a chilly, winter's evening.
Most unusual of all though has to be the 700 year old prison in the basement! You'll be pleased to hear that it's no longer a working prison, but you're able to wander down to take a look. Or it's available to hire out for private functions.
Bounce around at Jump Giants Trampoline Park, Thurrock
40 minute drive from Atlantic Hotel Chelmsford
Who said that bouncy castles were just for kids? Jump Giants is a 10,000 square foot bouncing indoor park which is suitable for all ages, so you don't have to miss out on the fun!
An unusual yet hilarious way to spend your time, this park has recently opened and has a cafe and restaurant on site. This is certainly one of the more obscure yet fun things to do in the evening in Essex, or even during the day!
Travel back in time at Talliston House And Gardens
25 minute drive from Atlantic Hotel Chelmsford
From the outside, Talliston House looks like a normal, regular council house. Yet, when you go inside it's a totally different story! Each room has been themed over a 25 year project to look like a different location or a different period of time. Talliston means "The Hidden Place", and it's certainly that!
Check out The Broomway – from a distance!
1 hour drive from Atlantic Hotel Chelmsford
Whilst we don't recommend getting too close, The Broomway is certainly a very odd thing to see. This is a road which dates back to medieval times and when the tide is in, which happens very quickly, it disappears, completely cutting off Foulness Island.
Locally this area is called Black Grounds, for good reason. Whilst you shouldn't head out there, simply because the tide comes in unexpectedly, it's a great thing to see and the area around Southend-on-Sea is certainly worth an exploration in its own right.
---
Things to do in Chelmsford
Chelmsford has plenty of its own top class entertainment and attractions. Sure, there's plenty of fun things to do in Essex overall, but if you want to stay local, you don't have to look too far for things to entertain your mind.
Check out the 'Second White House' at Hylands Estate
15 minute drive from Atlantic Hotel Chelmsford

Famous for being the White House double during the film Chasing Liberty, Hylands Estate is packed with plenty of space to roam and get some fresh air.
The park is free to enter and you can walk around, have a picnic, then sit and get a coffee at the on-site cafe. There are play areas inside the park for children to enjoy and the whole vibe is chilled out and quaint.
Explore Admirals Park
20 minute walk from Atlantic Hotel Chelmsford
Whether you're travelling with children or not, getting plenty of fresh air is a good thing. You'll certainly be able to do that at Admirals Park, which is packed with space to roam, trees, greenery, flowers, rivers, bridges, and lots of space for picnics.
If you are travelling with children, there are several play areas, but a quaint walk around is just as much fun.
Understand the local history at Chelmsford Museum
30 minute walk from Atlantic Hotel Chelmsford
Located in the beautiful grounds of Oaklands Park, Chelmsford Museum is the ideal spot for culture vultures and history buffs. Here you can learn about the role the city played in the war at the Essex Regiment display, and walk around the park afterwards to take in all that you've learnt.
---
Free things to do in Essex
If you want to save a little cash, there are plenty of cheap things to do in Essex and some of them are even free. You don't have to scrimp on fun, you simply need to know where to look for a fantastic day out without breaking the bank.
Go for a stroll along Southend seafront
45 minute drive from Atlantic Hotel Chelmsford

Who doesn't love the feel of the ocean air on their skin and the sound of the fairground in the background? Head to Southend-on-Sea and enjoy the seaside vibe. Of course, if you want an ice cream you'll have to pay, but walking around is a fun, free activity which everyone will enjoy.
Check out local art at Beecroft Art Gallery, Southend
40 minute drive from Atlantic Hotel Chelmsford
If you're in the Southend area, check out Beecroft Art Gallery. If you love local art or art in general, this is a great way to spend an hour and it's totally free! There are many different exhibits to enjoy and they have lots of events throughout the year. Check out what's on during your visit ahead of time.
Enjoy the atmosphere at Clacton Pier
1 hour drive from Atlantic Hotel Chelmsford
Another seaside location to enjoy is Clacton Pier. You'll love the feel of the pier, with a fun-filled vibe you can't help but notice. You'll also be able to take plenty of Insta-worthy photos for your feed and have a great day out for very little cash.
---
Is Essex your next destination?
Now that you know what to do in Essex, you're probably keen to get booking and start planning your visit! Great choice! Choosing to rest your head at Atlantic Hotel Chelmsford is another great choice, with a range of rooms and suites to choose from.
Simply knowing that you can return somewhere stylish, comfortable and cosy at the end of your day means you can head out and explore the best places to visit in Essex with abandon!